It's been a year, bois, it's definitely been a year. Now I know most people will be talking about the 'rona in their recaps but it impacted me pretty minimally, so I don't have much to say about it.
Instead I'll talk about all the adventures this year brought, going month by month!
January
January was wack. In fact most of my year was wack. I was still really struggling with my health and throughout the entire year we kept searching for treatment for it. The constant trial and error throughout the entire year was a discouraging process, but your girl ain't one to quit.
Like everything in life, January wasn't entirely bad, of course. Some highlights:
I got contacts for the first time! Glasses who? Frames what? (Yes I was trying frames in this pic XD) Let's not talk about the fact that I'm terrible at taking my contacts out every night like I'm supposed to.
Traveling to my favorite natural doctor place
Seeing a new doctor
Fasting for 21 days
Discovering beautiful new music and daydreaming of better times
Roleplaying with my buddy Josie
Eating at IHOP
Eating lots of sweet tea and bagels
Read more here: My Morning Routine January 2020 ♥
Some of my favorite music/artists from January:
Lots of Tauren Wells
Blind by Built By Titan
Overtime by Dj Em D
Us by Jenna Raine
February
Driving like 45 min away to eat lunch somewhere cool
New music, swinging and daydreaming of better days
Valentine's Day at a restaurant my family loves but I can't stand :')
Doing a fun photoshoot outside
Doing hyperbaric oxygen chamber therapy while watching Ninjago
Me and my brother's hilarious tradition every February 29th
Watching the Descendants movies
Some of my favorite music/artists from February:
Lose My Mind by Elation (we all thought it was by my brother's friend but it turned out not to be so I don't listen to it anymore, I didn't realize it was secular)
Your Voice by We Are Leo
Poco a Poco by Carmen Justice (one of my FAVES which she recently deleted from the entire internet!!!! *sobs*)
Flaming Arrows by Carmen Justice
March
March started looking up! In fact it was the best month of the year up to this point.
Inside jokes with my sibs from the Descendants movies and soundtrack and doing math together XD
God supernaturally provided the money for me to be mentored by a famous author, and I knew that was a sign I should start writing again, even if my health wasn't perfect; and actually, doing so made my life a little better!
Was too controversial on a popular platform I helped contribute to so I was very quickly made unwelcome :')
Started making music on GarageBand (see my first song here!)
FaceTiming my best friends to tell them the hilarious story of a Muslim crushing on me while driving to go pick up food even with the ton of Covid rules
Some of my favorite music/artists from March:
Descendants soundtrack, of course
Quarter-Life Crisis album by Carmen Justice
Flaming Arrows album by Carmen Justice
Go Off by Zauntee
All in the Moment by Zauntee
Jaisua
April
April was better than March. Throughout all this time we've been trying different treatment for my health issues, by the way, through tedious trial and error. None of them were really working, but good things still happened.

Camp NaNoWriMo with my online friends I got to know better through Discord! Now we chat every single day, chaotic trio for the win
I would write outside on our lanai, at our patio table with my laptop and huge headphones, just working on my antagonist's character arc
Baked cookies with my brother
Hilarious stonks memes I discovered and started making
Posted a few times on my ministry blog
Making more music
My brother's birthday party; we were in quarantine so it had to be at home but it was still plenty fun and we played with some random neighborhood cat
Some of my favorite music/artists from April:
Jaisua
Heathen album by GAWVI
EXIT album by Wande
Unite album by 1GN
Britt Nicole album by Britt Nicole
Make It by Carmen Justice & Simple Thieves
Loud by Carmen Justice
May
May wasn't as great as April. The trial and error process of figuring out what treatment would work was discouraging. We saw a few different doctors here. But life always has its good moments.
Hilarious and fun Discord conversations and my usernames and profile pics were all ninja themed
Cutting my hair short
Chilling in the pool with my dad and brother
Taking this fun photoshoot
Some of my favorite music/artists from May:
More Wande
More 1 Girl Nation
Lecrae
Retro Mars, Swedish Revolution & LoudWorship
Snapshot (feat. JSteph) by Matthew Parker
Confidence by Spencer Kane & Nic D
More by Holly Starr
Breakthrough by Eddie James
Amazing Grace by LZ7
1K Phew
June
June got worse. More frustration with the trial and error process of finding the right treatment.
But…
I worked a lot on my novel's scene outline with sweet tea
Ate lots of candy (whyyy??? XD)
Ate lots of chocolate chip pancakes (from the freezer section…)
I turned 17 and went to one of my favorite restaurants!
Some of my favorite music/artists from June:
July
Things were better than June, at least! I sought new treatment and started trying it out.
Doing a little Camp NaNo (before feeling too unwell) and coming across a GREAT idea and feeling full of inspiration
Fourth of July celebration service at my church
Going to the beach with my brother and his friend
Meeting up with one of my best online friends
Some of my favorite music/artists from July:
Crazy by Phil J
Sound of the Weekend by LZ7
Bruises by Holly Starr
Umbrella by Holly Starr
Human (feat. Matthew Parker) by Holly Starr
Wildflower by Matthew Parker
Younger Days album by Galactus Jack
Universal album by Galactus Jack
August
New treatment was going really rough. I just didn't really understand it and it felt too hard and overwhelming to apply. I tried, though.
Got another haircut (a bit too short this time, but it grew XD)
Went with my youth group to the beach
Went to my friend's birthday party
Ate lots of Cheesecake Factory fettuccine Alfredo and chocolate cheesecake
Some of my favorite music/artists from August:
Rapture Ruckus
Darling by Matthew Parker (I attended his livestream for this and had a GREAT time!)
Alory
Now and Then: 2010-2020 album by Galactus Jack
September
GUYS. GUYS. GUYS GUYS GUYS. WE FOUND A TREATMENT WITH THE HIGHEST SUCCESS RATE.
I tried it.
AND IT STARTED WORKING. I WAS SO HAPPY.
People who go through it say it's the hardest thing they've ever gone through in their entire lives. And they are 100000% right. It's already been the hardest thing I've ever done in my entire life, and I've barely started it!
BUT IT STARTED WORKING AND I FELT HOPE.
Therefore September was MUCH better than the previous sucky months! I laughed again. I enjoyed my days again. My sense of humor came back!
Now life was still NOT a bed of roses. Far from perfect, far from how good I used to feel. This therapy is literally the hardest thing I've ever had to do in my entire life, and temporarily makes you feel worse before you feel better.
But after a few days of putting in the excruciating effort, I started seeing results!
Progress is not linear by any means; I have good days and bad days and great moments and terrible moments, but dude, I used to have very few good moments.
I went to the doctor for persistent toenail trouble I'd been having for over a year and a half, don't ask XD
As part of therapy, I picked up an activity to busy myself with, and I chose crafting things for my friends! I made tons of bracelets and put together a lot of cute little gift packages to send to online friends and pen pals.
Watched Charlotte's Web with my fam
Lots of delicious chai tea, perfect for fall
I had hilarious conversations and voice calls on a Discord server I moderate (my sense of humor was coming back and I laughed sooooo hard)
I participated in a music video for my favorite artist AND I GOT IN! Go see if you can spot me: I'm the girl with short brown hair in a yellow shirt and I show up twice! I attended the livestream for this event and also had a great time; my other online bestie got in the video as well and we just had crazy humorous moments in the IG live chat XD
I got invited to my favorite artist's IG group chat and Discord server! YEEEEEE
Became co-owner on a Discord server I moderate
I went to the movies with my brother and Dad
I made this post
Discovered tomato soup and crackers which was delish
Some of my favorite music/artists from September:
Lead Me Home (Remix) by Matthew Parker, Jaisua, and JSteph
Alive (Remix) by NONAH & Matthew Parker
Bloodstream – Single by Matthew Parker (that's song for the music video I got into!)
Libre by KB
Let it Reign by KB
We Right Here by KB
Don't Need Perfect by Xander Sallows
Thank God I'm Alive (Remix) by Manic Drive & Matthew Parker
Vip album by Manic Drive
Echo – Instrumental Version by Lance Conrad from audioblocks.com
Skywards Instrumental by Will Van De Crommert from audioblocks.com
October
Therapy started getting rocky. It's the hardest thing I've ever had to do, after all, and I was going off of a self-help book with no therapist. But I still had a good month!
Roleplaying with my best online buddies while Fortnite default dancing down the Publix aisle
Eating gluten-free chocolate mug cakes
Watching Last Man Standing with my family
Going to a prayer meeting at church
Driving around town on my parent's anniversary putting up signs for our presidential candidate
More hilarious moments and memes and jokes on the Discord server I moderate
I became moderator on a HUGE server — 2,000+ members — through a hilarious turn of events were the moderators were being unfair to me so I left and wrote a negative review, then the owner contacted me and made things right, then literally asked me to apply for staff and I became mod right away
However that was short-lived as the owner decided to break Discord's Terms of Service which led to the entire server going INSANE, all the staff except me and one other person leaving, and that other person contributed to the chaos and I didn't outrank him so I couldn't stop him and it was literally just insane and then new owners completely nuked it XD
My hair had finally grown to the length I wanted it so I went to our church's campmeeting looking fab *flips hair*
I went to my brother's black belt test with his friends and we went out to celebrate!
HALLOWEEN WAS AMAZING. No we don't celebrate Halloween but we had the most amazing day; we went out to lunch (Chick-fil-A!) and shopped then binge-watched The Mandalorian as a family and I kept spilling things everywhere as I yeeted up from the couch when the doorbell rang to give kids fruit snacks and Dove chocolates (rip my candy).
Picture of me and my cute straightened hair, finally the length I wanted, before we went to a conference at church. I was pointing to a sign in our yard.
Some of my favorite music/artists from October:
Chapter in My Story by KALEIN & J.Steph
Pray for You (Remix) by Matthew Parker & Micah Ariss
Won't Run Out by LZ7
Sailboat by Matthew Parker
It's The Most Wonderful Time of the Year by Matthew Parker
Interlude by Attack! Attack! (this was actually discovered in February 2017 but I was absorbing myself in February 2017 vibes a lot)
5 Minute Adrenaline Countdown (same situation as above XD)
Like Myself by Elizabeth Grace
Chasing Quiet by Elizabeth Grace
Mad Today by Hulvey
Ready or Not by Hulvey
Dreamworld by Chris Howland & Matthew Parker
Kill My Vibe by Bad Party Heroes
November
NOVEMBER WAS THE HOLY GRAIL OF MONTHS OH MY GOODNESS. I was really working hard on applying the therapy.
I recapped the whole month here, but a quick recap here as well:
Staying up to watch the election while VCing with Discord friends and eating snacks
Watching lots of movies with my family <3
Working on my novel for the first time in a long time as part of therapy <3
NOVEMBER VACA HJKLSFSAD,FJKDSLK
My sibs and I bonding over our mutual love for The Legend of Zelda games and their soundtrack remixes
Thanksgiving and posting this post
Black Friday shopping
Lots of ramen noodles and gatorade
My buddy and I had matching Picrew profile pics on Discord of our novel protagonists
My self-help therapy was going okay, but I was stuck and needed guidance. So we made the best decision of the year and decided to go with the experts in my condition. They are the creme de la creme in this field, and before I even met with my new therapist, I started applying their tips to the therapy I was doing, and have been getting better results!
All of this made me once again enthralled with the beauty of life because the therapy was working and I was starting to enjoy things again. <3
Some of my favorite music/artists from November:
Kill My Vibe by Bad Party Heroes
Celtic Trap on Audioblocks.com
Montaña by Evan Craft, Sam Rivera, & GAWVI
Renegade by Sam Rivera & Spencer Kane
Superhero by Matthew Parker
Showtime and Winning by Zauntee
Severely by Xander Sallows & Ben Lawrence
Sweatband by FF5
Put On Your Sunday Clothes by Hello, Dolly! (1969 movie soundtrack)
Lost Woods Trap Remix (YouTube)
Breath of the Wild CG5 Trap Remix (YouTube)
Song of Storms Trap Remix (YouTube)
Song of Time Trap Remix (YouTube)
We Three Kings and God Rest Ye Merry Gentlemen by Tommee Profitt
We 3 Kings by Matthew Parker
The Very Best by Francesca Battistelli
Lioness by Beckah Shae
December
*cries because THIS MONTH WAS AMAZING TOO, DUDES*
This recap will be longer than the others because aghhh December just had so many fun moments!!!
I was part of my new doctors' app support community and learning more about their approach to the therapy. I was applying it and (again, emphasizing that it's no walk in the park to apply!) STARTED FEELING BETTER THAN I HAVE ALL YEAR sometimes. And that's before I even saw my new therapist!
So then I saw my new therapist for the first time! Although things were rocky at first, and even now as I'm still figuring out everything involved, I'm still applying the therapy, and am feeling better than I did months ago, at least!
We decorated for Christmas!
I worked on accessories on my ninja outfit!
Then I made cards and Christmas packages for my besties!
I baked chocolate chip cookies and did not care a wink about the possibility of E. coli as I ate the dough by the spoonful.
Did my ninja photoshoot!
I drank hot chocolate with my friends at church (no one told us it was only free before and after the service, not during, so I had to pay XD) at their winter event!
At the winter event there was fake snow, a HUGE Christmas tree made out of lights, I saw old friends, and met someone new!
Isn't our Christmas tree so pretty and dude look at my presents >:)
Christmas vacation started and it was awesome. We watched lots of fun movies (including Beyond the Mask, the Night at the Museum trilogy, and the Left Behind movies), ate a ton of absolutely delicious gluten-laden holiday food (rip my gut), and stayed up late laughing hysterically and making a ton of inside jokes.
One time at 2 AM my brother saw one of my old dolls staring at him from the top of my closet shelf, so that started a war with the "demonic doll" where we would constantly put it in places to surprise each other. I put it into his bed and he FREAKED out — he's a black belt in MMA so with his instincts he grabbed her neck and prepared to punch her face ._.
Then, as you can see in the picture above, he attached her to my ceiling fan and even attached one of my origami kunai knives to her hand (it fell off so I didn't see). ?
I went with my friends (after we got Chick-fil-A!) to Busch Gardens to ride roller coasters while the entire park was decked out all Christmasy. This completely random girl joined our group and rode with us for half the time XD
I didn't realize until I was dangling 400 feet in the air that I was wearing two completely different shoes the entire time… :')
Afterwards we got crappy hot cocoa from McDonald's and dropped my friend off at her house after petting her dog who was mad at us for some reason. :')
We cooked silver turtles over a firepit one night and my brother and I gave each other super fast and fun rides in a wheelbarrow.
To give you a glimpse at my brother's personality, he rolled me toward the fire chanting "Sacrifice! Sacrifice!" ??
I didn't have a picture of the dinner we ate, but I took this picture of a huge bush blocking my room window. So here. XD
A pic of delicious peppermint ice cream and whipped cream while we watched the classic It's A Wonderful Life.
Also shoutout to my brother for climbing on top of the roof to try to see that Christmas star phenomenon thingy.
Pic I took at 2 AM, staying up super late and laughing with my brother while watching him play Zelda games and playing music and cracking jokes.
Then we discovered Super Smash Bros. (of course I played as Zelda and my brother as Link) on the Wii U and dang, is it ever fun. We watched the first Lord of the Rings movie (and hated it) and just took to playing Smash until early hours in the morning. Also, I somehow sat on a Dove chocolate and got chocolate all over the seat of my pants, the couch, and even my sock. :')
On Christmas Eve, as is tradition, we got holiday treats at Fresh Market, opened one present, and watched A Christmas Story!
Then we stayed up late playing Smash and guys, I am literally dominating because my competitiveness and frustration at losing to my brother drove me to research and find out the best strategies for my character and now everyone thinks I'm OP when I'm literally playing one of the least-used and less powerful characters in the game, I just know how to play her well. VICTORY!!! *demented laughter*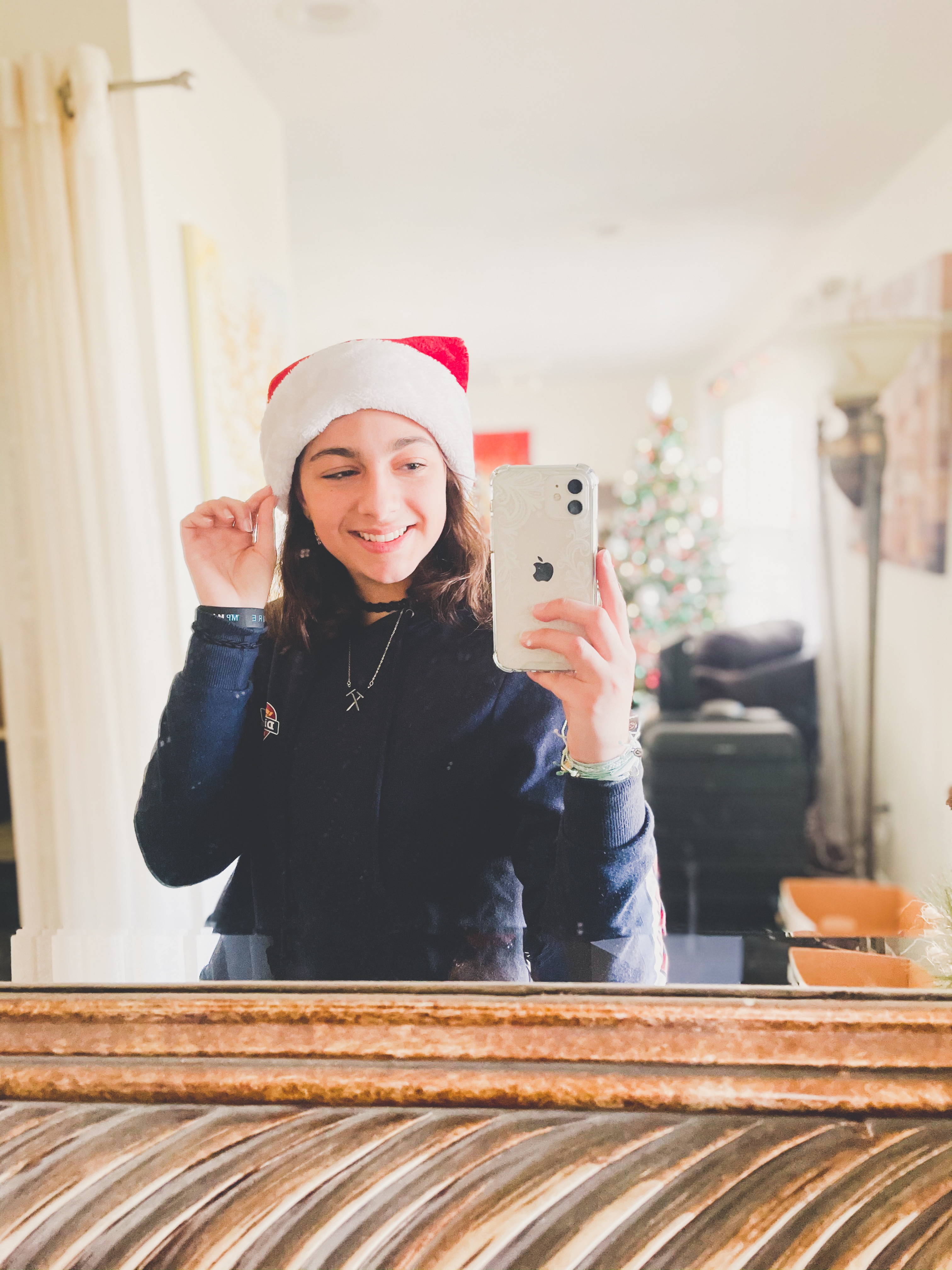 Then came Christmas Day! I blasted my favorite Matthew Parker Christmas song while doing the "are ya winning son?" meme dance and then we opened presents, had Christmas dinner, watched an episode of Psych and the first Star Wars movie (A Phantom Menace, not episode four) and that was a wrap.
On the 28th I did something cool that I'll tell you about later on for privacy's sake!
My sister's birthday was the 29th. We got haircuts, did yard work (wow so celebratory), climbed on the roof, and watched the last two Star Wars prequels (episodes two and three).
My favorite parts of December were laughing with my family (I did a hilarious character interview with my brother), watching movies with them, jamming to music together, and eating all my favorite Christmas foods! I relished in the results of the hard work I'd put in to doing therapy, and the good moments made me once again appreciate the beauty of life.
Some of my favorite music/artists from December:
Lioness by Beckah Shae
September by Tauren Wells
High Voltage (feat. Sam Tinnesz) by Tommee Profitt
Your Silhouette by Xander Sallows & J.Steph
Zelda – Song of Storms (EQuiñonez & Uverlaw Remix) (YouTube)
Song of Storms (Trap Remix) Zelda – Dma Illan (YouTube)
Say Goodbye (Instrumental Version) by NCS
Seasons (Instrumental) by NCS
December was by no means perfect because again, therapy is literally the hardest thing I've ever done and my health condition is super stubborn and made for some awful days, but bad times are just a couple experiences in a constellation of the others that made up my December. ?
---
This year, like it did for many others, sucked for me but there were many good moments in the midst of all the bad, and I choose to focus on those!
I think you should, too. ?
How was your 2020, and what do you have planned for 2021?
Trust God with your year, but don't confuse that with being passive! God can't direct a parked car, so don't wait around for 2021 to be a good year — get out and MAKE IT happen because no one else is going to do it for you!