I'm a historical fiction writer, and for years have been researching and writing about the fascinating warriors we now call ninja.
Back in their time, they were called shinobi. Female ninja did exist, although rare, and were called kunoichi.
IN OTHER WORDS, I AM ABSOLUTELY OBSESSED WITH NINJA AND HAVE BEEN FOR YEARS.
So when International Ninja Day rolled around on December 5th (thank you Clara for reminding me of this wonderful day), I threw away my unimpressive 16-year-old maturity and dressed up as one to take pictures.
Ninja were masters of stealth, espionage, sabotage, and assassination.
They never fought unless they absolutely had to.
While the warrior class of samurai deemed the ninja way of doing things "dishonorable", ninja were influential during the Age of Warring States and helped different daimyo win wars over land they wanted.
Historically, ninja actually did not wear black clothing.
When painting the ninja, Japanese depicted them in dark clothing to convey the fact that they were not easily seen.
They actually dressed as farmers or common folk—so you couldn't tell they were ninja—having secret weapons hidden in their hats or staffs.
You have no idea how much I love this picture.
I probably should not be fangirling over my own photoshoot, but it made me SO HAPPY.
What do you think? New profile picture?
Fitting for a ninja, I suppose. Since I am one and all.
Don't believe me?? PREPARE FOR PROOF.
On Habitica, a productivity app I use and contribute to, my avatar is all ninja-clothed like me, and I usually "ninja" others in thread posts.
For example, I contribute as a Socialite and help answer questions about the app to newcomers, and I generally do it at the same times others do, and they end up being "ninja"d.
After I apologized for not seeing their post before I responded, people usually laughed and said it matched with my ninja avatar.
They call me Madison Grace, Ninja Extraordinaire!
I didn't have a katana or shuriken (ninja star) or nunchucks or a bo staff or literally anything, so I ninja-stole my sister's chopsticks for a weapony effect. Thank you, sister.
Madison Grace, Ninja Extraordinaire: now you see her, now you don't.
SHE IS BUT A SHADOW.
Ninja were masters at espionage. I consider myself to be one too. >:D
I'm a highly observant human being and my stalking skills online are superb. People usually don't guess my next move either.
Did anyone guess I'd make a third blog? Not a chance. How about a fourth? Ninja surprise!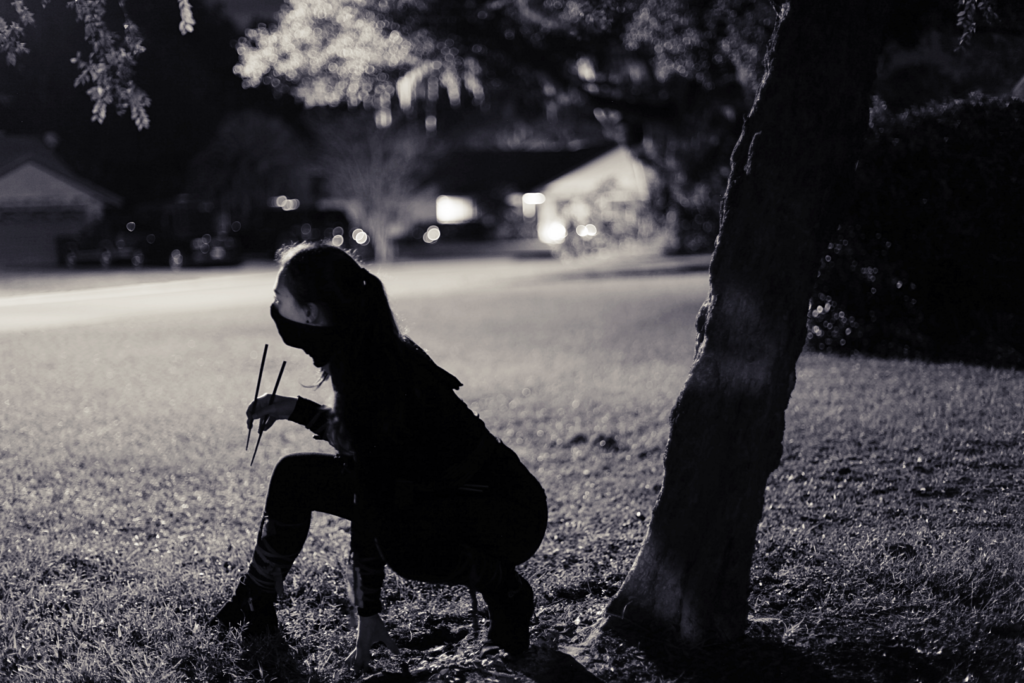 Simply put, I REALLY AM A NINJA.
I've always been fascinated with warriors. I love the unstoppable, the undefeated, the never-give-uppers, the intense, and the relentlessly tough.
One quick look at the songs in my music library and you can definitely tell. XD
Unstoppable
Punch You In the Face
Get Out My Way
I Like to Win
Undefeated
Not Backing Down
Gameface
Takin Over
Make it Epic
Walking the Thin Line
You Need a Piece of Me
Making My Mark
Out of My Way
No Time for Weakness
No Victory Like This
No Way Out
Under Cover of Darkness
Victory is Mine
Warfare
All or Nothing
Bring the Pain
Epic Adventure Music Theme
Epic Battle and War Music
Epic War Music Theme
Final Frontier Battle
😀
If I'm a bit nervous before a rollercoaster or doctor appointment or something, I literally pretend I'm Kira Ashi, the kunoichi warrior protagonist of my historical fiction series Warfare.
Do not doubt the maturity of this 16-year-old, there is nothing to begin with anyway. 😀
So, there you have it.
I'm a ninja… if only at heart.
And I'll continue to live out my ninja adventures in my historical fiction series Warfare.
A snippet to give you a taste (I'm a future bestselling author, yes ninja are this ambitious):
(Fight scene warning just in case you don't like clean, minor violence)
Just as the men finish their match, Sa-mai runs up to me. "You're up next!" she squeals. "First fight of the day. How are you feeling?"
I grit my teeth and sink to my knees on the floor mat. "Ready enough."
Sa-mai kneels next to me and tears open a package of powder over my hands to prevent sweat from making my punches slide. "You look great."
I shake my hands loose as I stand. Playing is fun even when you know you're going to win the game.
Eiren Akora steps into the ring and faces me. I wipe the floor with her.
Hora Sakenomi proves a bit tougher than Eiren, but I still send her out of the ring a bleeding mess.
"Master Ashi!" the referee yells as he takes my wrist and holds my hand up. "Best female warrior of MA Competition 1680!"
The place explodes with mixed reactions as the confident J-pop plays its chorus melody.
It feels so nice to be a respected woman. Perhaps I couldn't be the wife my ex-husband wanted, but I can win a fight.
I smile at the crowd before ducking under the fight ring and walking back to my floor mat.
"You hardly broke a sweat!" Sa-mai slams her elbow into my arm. "Go you."
"Ow!"
Tori, one of my students, runs up and hugs me. "Congratulations, Sensei," she says. "You were amazing."
"Thank you, dear." I smile and hug her back. "They were opponents worthy of our respect."
The place is still erupting with mixed shouts, but the most prominent is a constant chant: "Fight the men! Fight the men!"
The referee ducks under the fight ring and jogs over to me. I glance at him in confusion, and he raises his voice over the growing noise. "Master Ashi. The crowd wants you to continue to fight."
"But I've already won. What is their point?"
"To fight the remaining men."
My neck heats up. "What?"
"The warriors here are young—they're looking for a good show and something to inspire them. Would you be willing to fight?"
The chants ring in my ears so loud they hurt. "Fight the men! Fight the men!"
And be brutally murdered in front of two hundred people.
Panic floods my body, and I find it hard to stand. "They're mad!" I cry. "I'll get myself killed!"

Snippet from The Competition: A Warfare Short by Madison Grace COPYRIGHT 2019 IF YOU STEAL ANY OF THIS HORRIBLE SECOND DRAFT SHORT STORY THING I WILL SUE YOUR PANTS OFF WHILE SMIRKING LIKE THE AMAZING NINJA I AM ALSO I WILL HUNT YOU FOR THE REST OF YOUR DAYS.
Before I go back to melt happily into my ninja adventure daydreams, I will wish you a very happy (although late) International Ninja Day.
Any other ninja fans out there? If so, I've got happy news: there's a ninja emoji (finally!) scheduled to come to Unicode in 2020!